A new book "Typhoon Impact and Crisis Management", edited by Dr. TANG Danling (South China Sea Institute of Oceanology, Chinese Academy of Sciences) and SUI Guangjun (Guangdong University of Foreign Studies) is recently published by Springer, the world's largest publisher in the fields of medicine, science and technology. (ISBN: 978-3-642-40694-2 (Print), 978-3-642-40695-9 (Online)).
  The book consists of 26 chapters and is divided into six parts in 578 pages. This book provides new information on Typhoon Impact and Crisis Management using satellite remote sensing technology, linking the natural sciences and social sciences in typhoon studies. It examines remote sensing observations of typhoons (Hurricanes), typhoon impacts on the environment, typhoon impacts on marine ecosystems, typhoon impacts and global changes, typhoon impacts on economics, and crisis management for typhoon disasters.
  Prof. TANG has contacted research in the filed of satellite remote sensing of marine ecology and environment for many years, her research interests include the impacts of typhoons on marine ecosystems. She also serves many international scientific organizations. Dr. TANG is the President of the Pan Ocean Remote Sensing Conference (PORSEC), and the President of Pacific Congress on marine science and technology (PACON).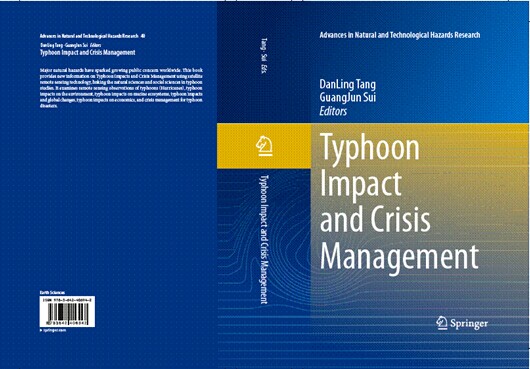 the cover of the book "Typhoon Impact and Crisis Management"(Image by SCSIO)
Editor,Prof.TANG Danling (Image by SCSIO)